Welcome to Milton Montessori School at Bethany Bend
Infants, Toddlers, Preschool, Kindergarten, and Elementary
Welcome to Milton Montessori School at Bethany Bend. My name is Ms. Nora Arrieta, and I am the Head of School at this location. Our school is a well-established authentic Montessori school. We have both AMS and AMI certified teachers. Our teaching staff has a combined over 170 years of teaching experience, and we are excited to share that knowledge and love of Montessori with your child.
MMS at Bethany Bend is a close knit community, and we enjoy several school wide events throughout the year. I believe that all of us- the school and the community- must work together to ensure success for all our students. I believe it is everyone's responsibility to empower children with the creative, intellectual, and decision-making skills necessary for them to become academically, socially, physically, and emotionally successful and responsible. As Maria Montessori said "We shall walk together on this path of life, for all things are part of the universe and are connected with each other to form one whole unity"
Through the years I am always amazed at the impact that Montessori education has on the families that have chosen the Montessori path. It's a lifelong gift to your child and it motivates me every day to provide the best programs I can, and so, my promise to you is to never compromise the integrity of our Montessori programs.
Finally, at MMS at Bethany Bend, we strive every day to grow and excel. We are currently an associate school by both AMI and AMS.
Sincerely,
Ms. Nora Arrieta
Head of School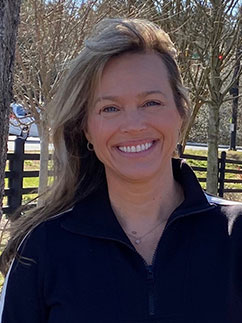 Hello, My name is Ms. Debbie Bradford and I am the Director of Education for Milton Montessori School at Kelly Mill (Cumming, GA) & Bethany Bend (Milton, GA). I began my career in the Montessori classrooms where I taught in toddler, primary and lower elementary classrooms. With over 15 years of experience in teaching and 5 years in administration in the role of Director / Head of School, I truly believe in the Montessori way of education in its benefits for all children. At my previous position as the Director of a local Montessori school, I assisted with the successful launch of their Montessori International Baccalaureate Middle School & High School.
I am passionate about the "individual" approach Montessori offers to each child and believe all children should be celebrated for who they are and who they were created to become in life. I am committed about creating a culture of shared values and respect for all students and staff, a culture where diversity is celebrated and shared with pride. Children must be able to connect to their imagination and use their creativity to think "outside the box". Allowing children to learn skills in school such as empathy and compassion are important Emotional Intelligence skills. A child's EQ (Emotional Quotient) is as important as their IQ (Intelligence Quotient). Montessori materials and lessons meld together with public school curriculum while allowing the child the opportunity for concrete and abstract learning. The curriculum can be tailored to each child at every level. The multi-age classrooms allow children's needs to be met socially, emotionally and academically. Children are encouraged to take an active part in their own learning. Critical thinking skills are imperative to future success. Independence and pride in a job well done are important skills that Montessori teaches every child. Failure is a natural part of life and allowing children to make mistakes and learn from them is important in building tenacity and inner strength within each child. A teacher that is taught to stand back and observe the child allows this to happen naturally. Debbie is passionate about classroom management, lesson presentations, and curriculum support.
My favorite quotes of Maria Montessori that signifies the method of effective early education are:
"The role of education is to interest the child profoundly in an external activity to which he will give his full potential."
"The greatest gifts we can give our children are the roots of responsibility and the wings of independence."
Sincerely,
Ms. Debbie Bradford
Director of Education
TESTIMONIALS
Review by Elina B.
This school is amazing!! The teachers are qualified, many have master degrees in education. My son loves it and I can tell how much he is learning. Also, I transitioned my son from Kids R Kids, so I was able to tell the difference in a matter of two months or so. So glad I found it!!
Review by Neil T.
I was among the original batch of preschoolers when Milton Montessori (back then it was called Red Apple Montessori) started during 2009-2010. I am in Elkins Pointe middle school now and we got a call from the school last week inviting us for their 10 year anniversary celebration on Jan 12th. I was too young to remember much details of the school but I enjoyed going there every morning. Ms. Leigh was my teacher and she was very kind. I cannot wait to go back in Jan to meet my old friends and teachers.
Review by Alex Warner
I am originally from Maryland and moved into the Atlanta area about 2 years ago. Having a big family and support system back home, one of my biggest concerns with work relocation was to find a good preschool to take care of my two children (ages 2 & 4). Milton Montessori was recommended by a colleague who had sent his child to this school some years earlier. He specifically mentioned about Ms. Anu and her amazing ability to bond with children. I did not spend much time touring other schools and enrolled both my kids at this school. The older one was with Ms. Nisha (primary) and younger one was with Ms. Anu (toddler). The biggest strength of this school is the genuine care and close knit culture shared between teachers, children and parents. Montessori has a unique approach which I was not completely sold into initially but am now observing the creativity and independent thinking it fosters especially with my older child. The staff has been responsive to concerns or special requests I have had periodically. Ms. Anu was an outstanding teacher to my younger child and was instrumental in her development. I would recommend this school to anyone looking to provide a strong foundation and ability to grasp concepts in math, science and learning in general.
Review by Jessica Haley
So, I guess the old saying is true… Great things come in small packages! We just started our 2 1/2 year old son at Red Apple, and I must say it is a very legitimate Montessori School! AMAZING FROM DAY ONE!!!!!!!!! The director is not only professional and knowledgeable but the teachers are awesome and even on the tour, they made my son feel so welcome, he didn't even want to leave! You can tell they love their job and the children. The classrooms are neat and clean and fully equipped. Also a bonus, they actually had my son fully potty trained in a week and a half!!! They are truly a blessing and we are so happy we found this school and gave it a try! Keep up the good work!!!!!
Review by Anita Jupin
I don't usually write reviews for products or restaurants, etc online but we have had such a wonderful experience with Red Apple that I wanted to share in hopes of helping other parents who are interviewing and researching schools for their children. It was the best decision we ever made to send my son when he was 2.5 years old. He is now on his 3rd and final year at the school before transitioning to Kindergarten and my youngest child will be starting there next year. The teachers (both in the Toddler class and the Primary classes) are so bright and nurturing. The main teacher in the Toddler classroom was exactly the person we needed as I was adjusting to sending my child to school for the first time and he was adjusting as well. She was so warm and caring and made it such a positive experience. She really took the time to get to know his personality and was able to teach him so much. The director is fantastic and we are lucky she happens to be my son's teacher as well for the past two years. Her kindness and patience shines through in her lessons and my son tells me his favorite thing to do is read out loud to her while she helps him. I love the small environment of the school and the open door policy. We can chat with the teachers any time and can even come help out in the classroom for special occasions. We truly value and appreciate how they challenge the children to reach their fullest potential while allowing them to be exactly who they are and achieving their goals at their own pace. My child has truly thrived in this environment and enjoys going to school everyday. Additionally, the school is always well maintained and has lots of creative materials for the children to use. We have been very pleased and feel Red Apple Montessori is an outstanding preschool for our children.
Review by Amisha Wilson
My daughter loves it here!! She only started in October and I can see a world of difference in her. The teachers are amazing and they do an amazing job teaching and getting her excited to learn. Everyday she is excited to go to "teacher Anu house" as she refers to school.
Review by ReshmaSabeesh
I wanted to enroll my son to a Montessori program and tried one-two of the other schools in the area and finally came to Red apple Montessori. In my personal experience this is the best Montessori school nearby, none other can be compared to this. Arav recently joined this school and I could see a lot of improvements in him, he is becoming more and more independent and confident. Ms. Anu is the best teacher he could ever get and the assistant teachers have been very caring too. Whenever I see something new that my son has mastered upon, I ask him who taught you and he replies "Miss Anu taught me"! So glad to hear that.
Review by Keerti Gupta
Milton Montessori School (originally Red Apple Montessori School) is a special place. I can't imagine a better place for my daughter. I was impressed by the reviews I had read online before I enrolled my daughter but once I tried it, I fell in love with the place. The staff and teachers are exemplary. They are very friendly and made my daughter feel right at home. My daughter's teacher and the entire staff is highly trained and certified in the Montessori curriculum. With such a low ratio, I felt that they got to know my child intimately – Ms. Anu, who is her main teacher knows her strengths and weaknesses very well. I have often seen her sitting with the students on the floor engaging with them at their eye level which is very special. The most important thing is that my daughter wakes up every morning and gets excited about going to school. In a nutshell, it is a place where my daughters curiosity is encouraged, her voice is heard, her little personality is respected, and her teachers are passionate about teaching. I could not have asked for a better place for my child to be.
Book A Tour Online
MILTON LOCATION LUNCH
At Milton Montessori, we believe a healthy mind and body is conducive to effective learning. We have an in-house chef in our staff who prepares fresh, healthy and tasty meals daily for students. Lunch is prepared in our own kitchen with natural ingredients at the highest standards of cleanliness. One of our motivations to streamline the lunch program (lunch cost included with tuition)is that we have observed children do much better when they sit together and eat from the same menu. In addition, it broadens their range of food choices beyond what they eat at home. We gladly accommodate certain meal preferences (vegan, vegetarian, allergies etc.) so it's tailor made for your child. There are also a couple of opportunities through the course of the year when parents will be invited to taste sample dishes from our lunch so we can refine our menu based on your feedback.
Please see our lunch page for more details about our lunch dishes.