Toddler Curriculum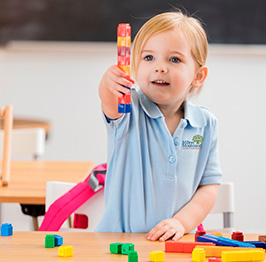 "The greatness of the human personality begins at the hour of birth. From this almost mystic affirmation there comes what may seem a strange conclusion: that education must start from birth." (Maria Montessori, Absorbent Mind). The Montessori philosophy of " following a child" fosters the individual natural curiosity characterized by quality , order, simplicity and beauty. We here at Milton Montessori have an infant/ toddler environment designed to give the young ones the freedom to learn through their senses. Our infant classroom provides our youngest students with an engaging and nurturing start to life and Montessori. You will find that our classroom is spacious and welcoming, with loads of natural light. On the infant room shelves, you will find engaging toys and books. The infant classroom is divided into thoughtfully prepared areas that allow for exploration and movement. Floor level safety mirrors draw the curious attention of our young students. Their happiness is evident in their discovery. When you visit, you may find our infants and guides enjoying the outdoor classroom and gardens on warm, sunny days.
In addition to the nurturing environment, our infant guides are gentle souls with a passion for Montessori. Our 1:4 ratio is lower than you will find in many schools, and it meets the standard set forth by AMS.
Practical life: Includes helping infants learn to drink from a bottle, and then a cup and then to eat unassisted.
Sensorial: Allows an infant to learn about the world through their senses. response activities and touching and grasping various objects.
Language: Language activities and materials to encourage using words, increase vocabulary and conversational skills.
Art and Music: Through song and dance, infants have access to a variety of large muscle activities that offer them opportunities to jump, climb, balance, crawl, or skip.