Welcome to Milton Montessori School at Kelly Mill
Infants, Toddlers, Preschool, Kindergarten, and Elementary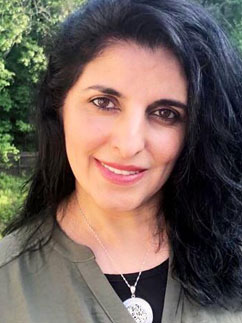 Welcome to Milton Montessori at Kelly Mill. My name is Ms. Suheir Ibrahim and I am Head of School at this location.
I believe a school is only as good as its community and I trust that by working together we can provide the best learning environment for our most important stakeholders: the children!
My vision for our school is to provide an environment where children feel safe to learn, and make mistakes. A place where the emphasis is placed on the whole child, with ample opportunity for academic growth. We strive to create a community of inclusiveness where every child feels welcomed, accepted, and loved. We believe that children learn best when they know they won't be judged and that they can trust their caregiver; be it a parent, a family friend, or a teacher.
In the Montessori classroom, children learn problem solving, analytical thinking, conflict resolution, teamwork, and compromise. They also learn to respect individual work and the personal space of others. We aim to help children by giving them the tools needed to learn these soft skills, through their interactions with their Guide, their peers, and their environment.
Through exploration and manipulation of the materials at their own pace, children learn how things work and why they get the results they do. In the words of Maria Montessori: "The hands are the instruments of man's intelligence". Children will learn through hands on experiences and exploration. They are given the freedom to navigate the classroom and work with carefully selected materials and previously introduced lessons. Movement in a Montessori classroom is purposeful and productive.
I have been in the Montessori classroom for over fourteen years with children ranging from fifteen months to eleven years old, raising four children of my own, my oldest being 28, volunteering at my children's schools and as a Sunday school teacher for teenagers. I learned that what all children have in common regardless of age, gender or background is their need to feel accepted and valued. They want to feel acknowledged, respected and that their opinions and input matter. They want to belong.
Our mission is to help raise a generation of children that have a positive attitude and outlook towards life, children with the strong work ethic and good communication skills, children that are confident in their abilities and also empathetic to others' needs. We want to instill in children the love for learning!
Your child deserves the best and I invite you to schedule a school tour with us and observe how we can guide your child to develop a strong foundation as they begin to understand the world around them.
Sincerely,
Ms. Suheir Ibrahim
Head of  School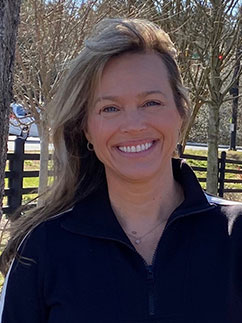 Hello, My name is Ms. Debbie Bradford and I am the Director of Education for Milton Montessori School at Kelly Mill (Cumming, GA) & Bethany Bend (Milton, GA). I began my career in the Montessori classrooms where I taught in toddler, primary and lower elementary classrooms. With over 15 years of experience in teaching and 5 years in administration in the role of Director / Head of School, I truly believe in the Montessori way of education in its benefits for all children. At my previous position as the Director of a local Montessori school, I assisted with the successful launch of their Montessori International Baccalaureate Middle School & High School.
I am passionate about the "individual" approach Montessori offers to each child and believe all children should be celebrated for who they are and who they were created to become in life. I am committed about creating a culture of shared values and respect for all students and staff, a culture where diversity is celebrated and shared with pride. Children must be able to connect to their imagination and use their creativity to think "outside the box". Allowing children to learn skills in school such as empathy and compassion are important Emotional Intelligence skills. A child's EQ (Emotional Quotient) is as important as their IQ (Intelligence Quotient). Montessori materials and lessons meld together with public school curriculum while allowing the child the opportunity for concrete and abstract learning. The curriculum can be tailored to each child at every level. The multi-age classrooms allow children's needs to be met socially, emotionally and academically. Children are encouraged to take an active part in their own learning. Critical thinking skills are imperative to future success. Independence and pride in a job well done are important skills that Montessori teaches every child. Failure is a natural part of life and allowing children to make mistakes and learn from them is important in building tenacity and inner strength within each child. A teacher that is taught to stand back and observe the child allows this to happen naturally. Debbie is passionate about classroom management, lesson presentations, and curriculum support.
My favorite quotes of Maria Montessori that signifies the method of effective early education are:
"The role of education is to interest the child profoundly in an external activity to which he will give his full potential."
"The greatest gifts we can give our children are the roots of responsibility and the wings of independence."
Sincerely,
Ms. Debbie Bradford
Director of Education
TESTIMONIALS
Review by Amanda Ripley
2 of my children have attended Milton Montessori and we could not be more pleased. We plan on sending our third child here when she is old enough. We have tried other Montessori Schools in the area, and MMS is a head above the rest! The teachers are wonderful, they boast years of experience with ongoing training and the connections they have formed with my children are incredible. The staff is amazing and the facility is beautiful and very homey. I am so thankful for the education my children have received, they have fostered a true love of learning. Thank you MMS!
Review by Kristie Marlette
We are currently in our second year at Milton Montessori School and couldn't be happier! I taught in the public school system for 8 years which often frustrated me with its ever changing curriculum and endless assessments. I had extensively researched the Montessori method, which blew me away! Montessori teaches to the whole child, not to the test. This is how all children should be taught. We had previously enrolled our then 3 year old son in another local Montessori school that he dreaded attending everyday. I just didn't feel like they really took the time to understand my son. We still really believed in the method, so we went for a tour at MMS hoping for better results. The first time we visited we could tell it was going to be a completely different experience. The teachers and staff at MMS are so warm and friendly. There is such a great vibe the minute you walk in the door. Ms. Jahan is my son's teacher and has made such a difference for my wild little boy! She has the right balance of high expectations with a warm and friendly heart. It was exactly what our son needed! At our first conference she knew our son inside and out and I could tell that she truly cared about his well being. My daughter is now with Ms. Charu who brings so much fun to the classroom and has been very patient with our sassy 3 year old. She shows a deep level of respect for her students and values them for the individuals they are. This is a rare find in preschool! MMS is such a special place. Not only are my kids learning and growing everyday, I have become a better parent as I learn more about the Montessori way. I know my children are making lifelong friendships they will cherish forever. ILMS is a family that we are so grateful we found!
Review by Pallavi A Nahata
Milton Montessori is an amazing school. I have two children attending ILMS and we are blessed to be a part of this great school. Both of my my kids have wonderful teachers here. They embrace diversity and help students to learn about the different cultures. Children get a well-rounded growth. Curriculum is excellent. Environment is enriching but not competitive which makes learning fun than pressure. There are a variety of enrichment classes offered after school. PTO is also very involved and organizes events on a regular basis. We are very happy with the school.
Review by Mariel W
Absolutely love this school! The learning environment is warm and inviting and the teachers are kind and experienced. My kids have been attending the Mother's Morning Out Program for the past year and we have seen great improvements in their behavior and speech since they have started at Milton Montessori. They get so excited to go and adore their teachers! We feel very lucky to have stumbled upon such an excellent school!
Review by Madeline Chryst
My son (5) and my daughter (10 months) both have been attending Milton Montessori for several months now. From the attention they provide each of their students, communication they have with the parents, all the way to the cleanliness of the entire place has been a great experience. It is something my husband and I have struggled to find in a pre-school and daycare for a long time now and are so happy we have found the perfect place for our kids.
Review by Jennifer Mullins
We honestly can't say enough great things about this school! The care, compassion and energy these amazing teachers put into each child is something that completely exceeds any expectation we had coming in. Our son has gone from crying every morning at the thought of going to his previous school to waking up on the weekends upset that he isn't going to "his new school". He has blossomed into an independent, outgoing, fun loving 3 year old and we have this school to thank for a lot of that!
Review by Berny Ramirez
I would like to recommend Montessori School, they are very kind and passionate about teaching children. I noticed a positive change in my daughter behavior and socialization. Let me tell you something else I liked, they are very clean and organized and when I first visited the school it surprised me seeing other small kids doing a lot of things by themselves and good enough I was able to see my daughter doing it too at a parent's activity. You got to love that! Oh and they speak Spanish! which was very good for me and my wife.
Review by Alejandro A
What a difference learning the Montessori way made in our child, in comparison to traditional daycare. Each child is different, and finding the right fit for a child is crucial of course. For our daughter, knowing her independent drive, and desire to help around the house, made Milton Montessori a perfect fit for her. The staff is excellent to work with, the school itself is very warm and welcoming, and the curriculum is legendary. The organization and structure that's setup is not just for the children, but also for the parents, which gives great peace of mind. Seeing the leaps and bounds my daughter has made with her communication, social, tasks (staying focus), potty training, and listening skills has us proud to drop her off and pick her up every school day. Thank you, Miss Suheir and Miss Blanca, and the rest of the staff!
Review by Gina Elizabeth Lujan
Milton Montessori experience is a gift to families that want to provide their children with immersive and transformative learning. This school has made an investment in not just our child, but our family. The school has powered our sons imagination and we have seen remarkable behavioral growth that I know he would not have achieved without the commitment of the entire faculty. Thanks to Montessori he is growing up with a sense of wonder, exploration and curiosity. It's a privilege to be part of the Milton Montessori family.
Book A Tour Online
CUMMING LOCATION LUNCH
At Milton Montessori, we believe a healthy mind and body is conducive to effective learning. Our in-house chef at Milton location who prepares fresh, healthy and tasty meals daily for students. Lunch is prepared in our own kitchen with natural ingredients at the highest standards of cleanliness. One of our motivations to streamline the lunch program (lunch cost included with tuition)is that we have observed children do much better when they sit together and eat from the same menu. In addition, it broadens their range of food choices beyond what they eat at home. We gladly accommodate certain meal preferences (vegan, vegetarian, allergies etc.) so it's tailor made for your child. There are also a couple of opportunities through the course of the year when parents will be invited to taste sample dishes from our lunch so we can refine our menu based on your feedback.
Please see our lunch page for more details about our lunch dishes.