CREATE A MONTESSORI SPACE IN YOUR HOME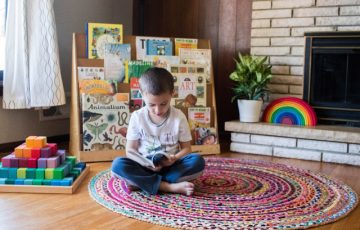 The Milton Montessori School Education
What is Montessori?
Montessori is child-led learning. Maria Montessori stressed the need for freedom and independence. Children have absorbent minds and with careful preparation of the environment, the child is able to freely discover to create a deep love of learning. Montessori students are taught to take care of themselves and to be helpful to others. They wash tables, organize shelves, prepare their own meals and assist younger children. In addition to mastering real-life skills, they come to see themselves as valued members of the community
How do I incorporate Montessori into my home?
Winter months bring many days indoors, which give you an opportunity to create a Montessori space in your home. Creating spaces and using objects that are easily accessible to your child are crucial to Montessori learning.
Here are some ways to incorporate Montessori into your home:Low shelves: Openly display work materials, instead of in big bins or out of reach. This shows your child these materials are special. What you choose to put on these shelves will vary depending on the developmental level of your child, and how much space you have.
Small tables and chairs: Chairs and tables shouldn't hinder learning. If the chairs and tables are lightweight, your child can freely move them into different rooms, fostering independence. It's neat to see this in action. Don't have the budget? Repurpose an old side table or coffee table.
Various-sized trays or a basket: One project or activity goes on its own individual tray or basket. Once an activity is introduced, they may take the tray to their work table, and do the work until they are finished. Then they return the tray to its spot on the shelf. The key to this is that your child has to be able carry the tray or basket from the shelf to his/her work space and back, so be mindful not to buy them too large.
Small pitchers, bowls, scoops, measuring spoons and tongs: These tools are used on a daily basis in the practical life skills area, as well as the pre-writing skills area. For example, transferring dried lentils with a small measuring spoon from one bowl into another starts the process of developing proper writing grasp. You want these tools to aid your child in their work, not frustrate them. Try them first before putting them on the shelves.
Why Milton Montessori?
At Milton Montessori we encourage order, independence and self-motivation. Carefully designed areas allow children to develop competence in caring for themselves and their surroundings. Bringing Montessori principles into your home can be a valuable bridge to what your child learns at school. If you have any questions about Montessori education or the Montessori method, contact us today. Our Montessori preschool and daycare services conveniently serve children in Milton, Alpharetta, Roswell, Cumming, Woodstock, and John's Creek.